📈🚀 Spot ETF Speculation: Bitcoin Above $34K
In this edition we explore Bitcoin's 18-month high, LBRY Inc's shut down, Uniswap Lab's new fees, Circle's new platform for web2 devs, the latest in the SBF trial and more.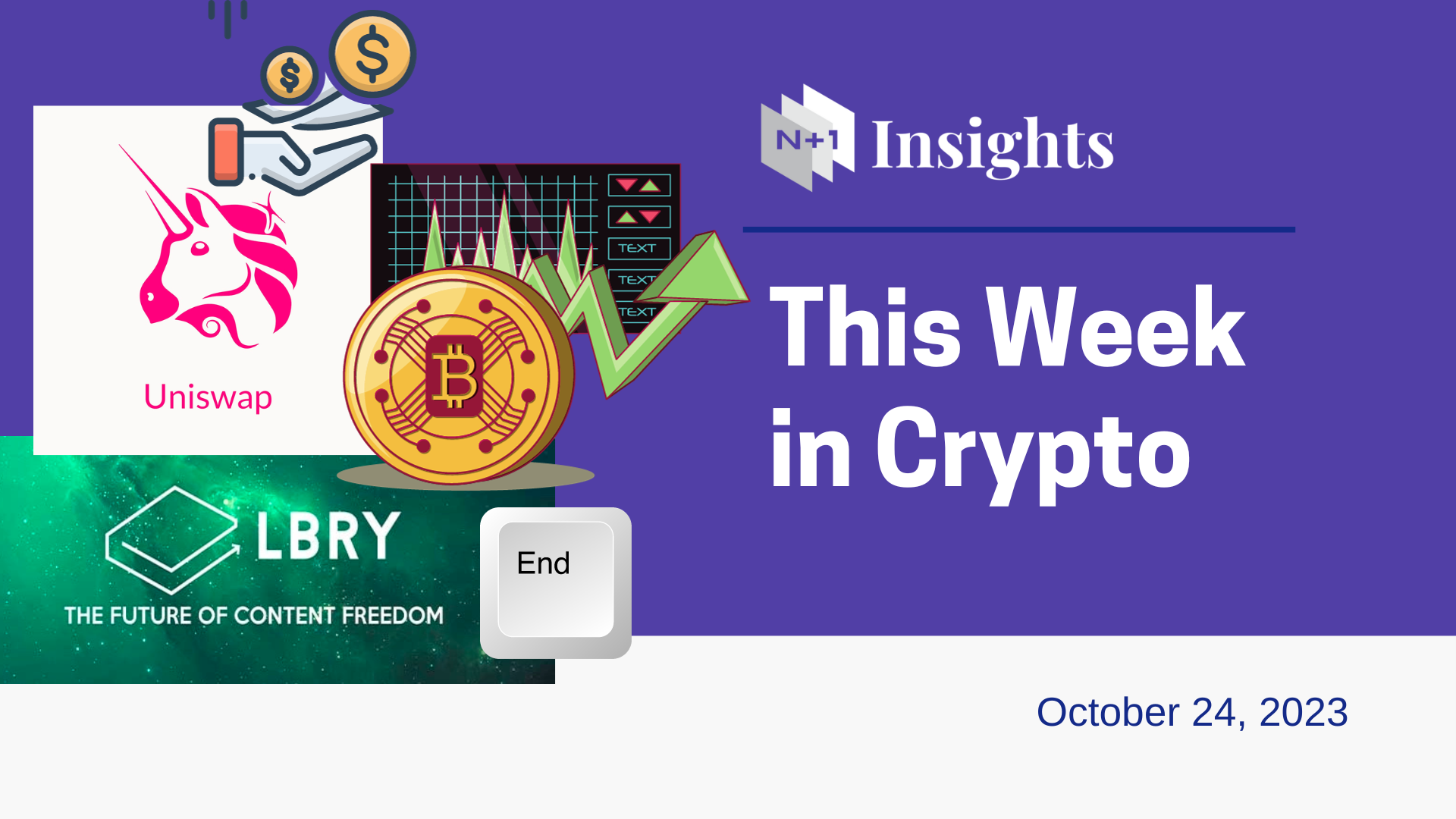 Keep up with the top crypto headlines in our weekly recap
Hello Investors ☕
In this edition we explore Bitcoin's 18-month high, LBRY Inc's shut down, Uniswap Lab's new fees, Circle's new platform for web2 devs, the latest in the SBF trial and more.
Safe Trading,
The N+1 Team
🚀 Bitcoin Reaches 18-Month High
Bitcoin spot ETFs drew excitement in the crypto community on Monday October 23rd, causing prices to jump 13%. While BlackRock's spot Bitcoin ETF application is still pending, the ticker, IBTC (iShares Bitcoin Trust), was listed on the DTCC (Depository Trust & Clearing Corporation). This is the first ETF to be displayed on the DTCC, and it drew a great deal of attention. Following the news, Bitcoin reached above $34K. While this does not necessarily indicate approval, Bloomberg analyst Eric Balchunas discussed the matter on X, saying "they either [got the] green light or they [are] just prepping everything assuming so. That said, we still think many will launch at once".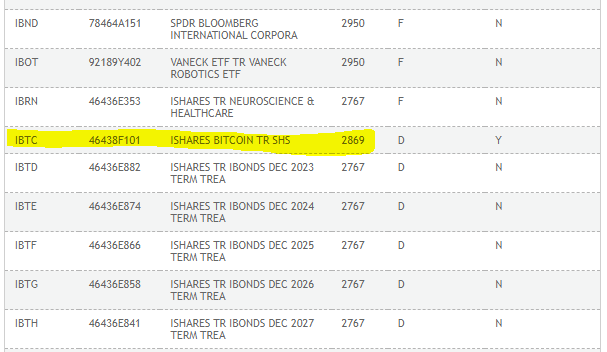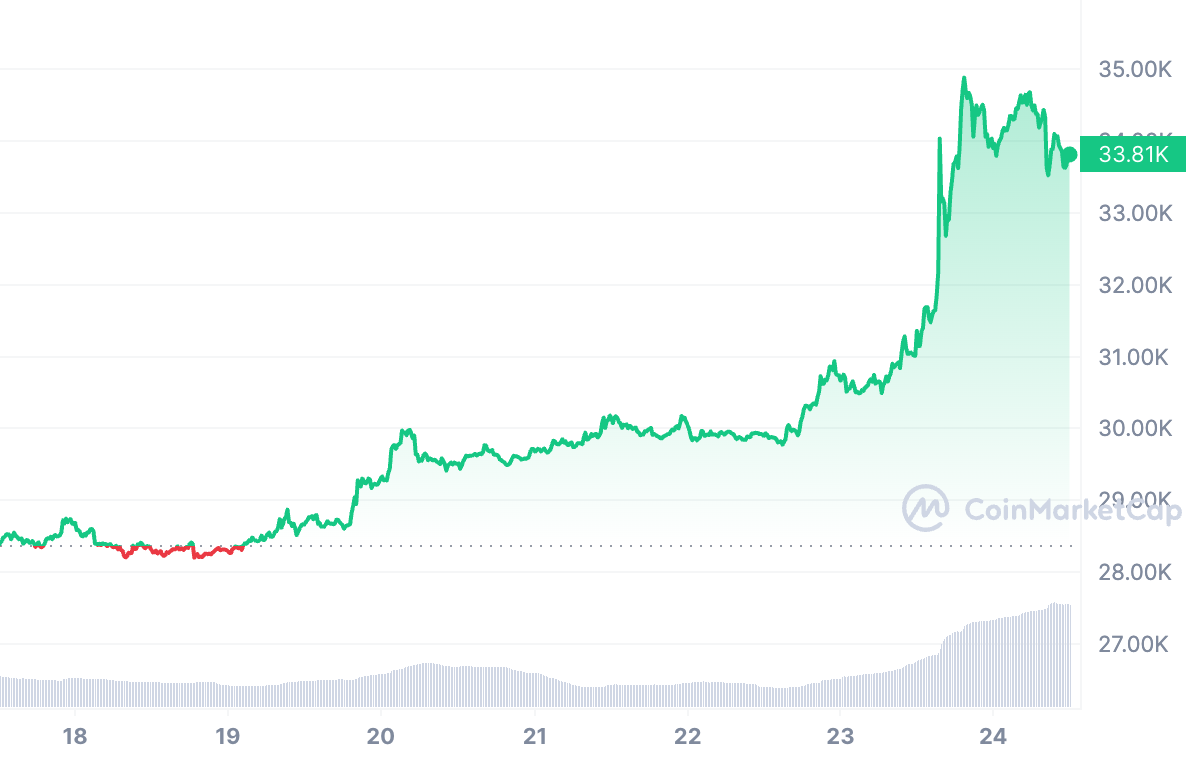 🚨 N+1 Breakdown: Misinformation Contagion
Speaking of BTC price jump – as a follow up to last week's ETF Spot Bitcoin rumours, we have created a timeline to better understand how misinformation can spread.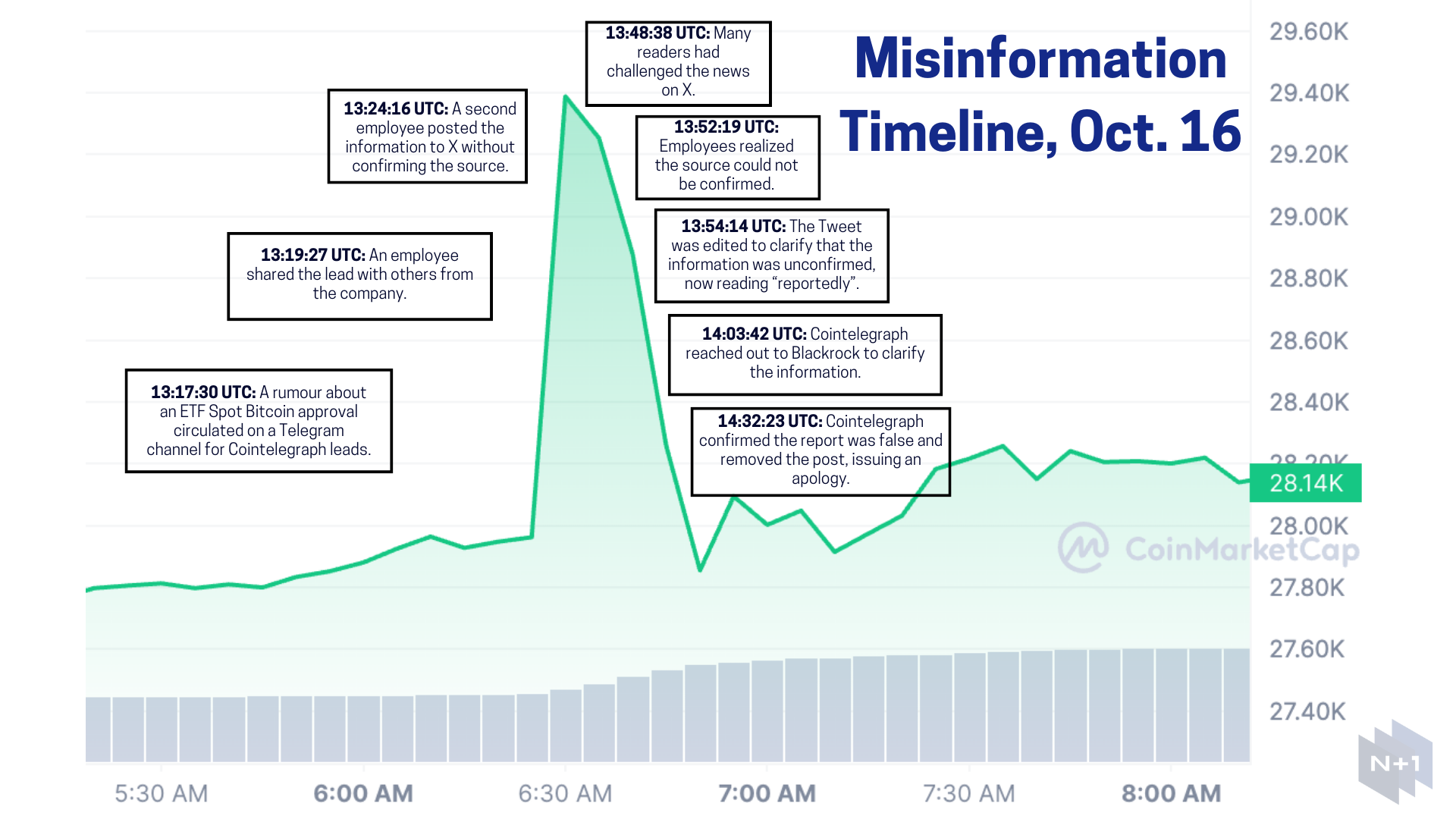 😔 LBRY Inc. Shutting Down Services
In a post on October 19th, LBRY Inc., the creator of the LBRY protocol, announced its closure. First launched in 2018, the platform focuses on digital content through a distributed network. LBRY allows publishers to charge fees for their content and to interact with fans without a middleman, like a decentralized version of YouTube. The company is closing following a legal loss to the SEC in November 2022, which reportedly sent the organization into several million dollars into debt. In its post, LBRY Inc. stated: "the LBRY network might die, too. Decentralization isn't magic – it only works if enough people use it". Users on X (formerly Twitter) expressed sadness at the news.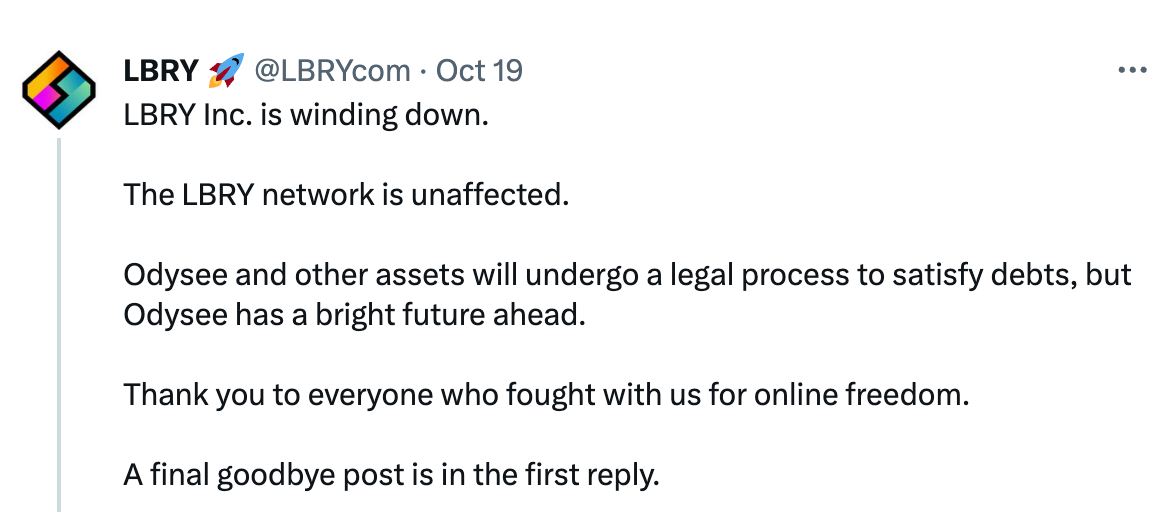 🦄 Uniswap Labs Implements New Fees
On October 17th, Uniswap Labs implemented a new 0.15% service fee on crypto swaps for certain tokens. The fees apply to swaps that are completed through the front end of their decentralized crypto exchange, Uniswap. Stablecoin swaps and wrapping Ether are exempt from the new fees.
🔵 Circle Releases Platform Targeting Web2 Developers
The issuer of USDC, Circle, has launched a platform focused on helping web2 developers transition to web3. Titled "Gas Station and Smart Contract Platform", the program is meant to help simplify and remove the barriers to accessing web3. The platform includes templates to make building web3 apps easier and is currently available for developers in beta.
⚡️ Lightning Labs Releases Taproot Assets
On October 18th, Lightning Labs, the creators of the lightning network, announced the mainnet release of their protocol, Taproot Assets. The protocol is meant to enable "issuing, managing, and exploring stablecoins or other assets on the bitcoin blockchain". The company hopes that this new release will mark a change for bitcoin, with the intent to make it a scalable multi-asset network.
💼 SBF Trial to Return October 27th
With day 12 of the SBF trial complete, the case will take a pause and is set to resume on October 27th. This week, former head of engineering at FTX, Nishad Singh, took to the stand again. Singh testified against SBF and described the misuse of customer funds and difficult management style. Later in the week, Professor Peter Easton took to the stand to analyze the alleged gap between FTX's liabilities and assets. Finally, former FTX General Counsel, Can Sun, testified against SBF. Sun focused on his role in crafting the terms of service and highlighted the deficit that meant FTX was unable to cover customer withdrawals.
📚 N+1 Recommendations
The N+1 reading and media recommendations are sourced from our team of experts and offer weekly suggestions for learning more about blockchain, crypto, finance and technology.
This weeks recommendation: Blockchain and the New Architecture of Trust by Kevin Werbach
📊Charts of the Week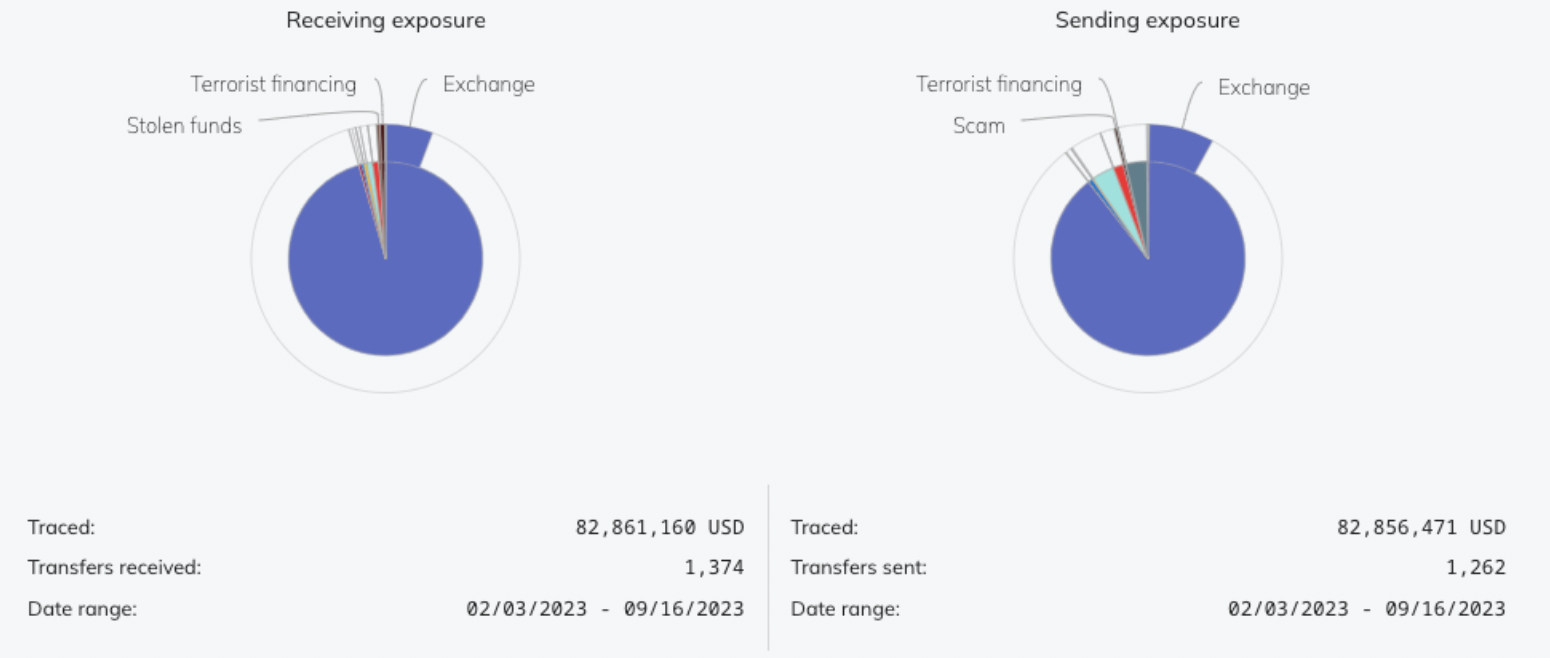 🤩 This Week on Crypto Twitter
🗣️ Join the Discussion!