Insights
📊 Regulatory Challenges, Lawsuits and Hacks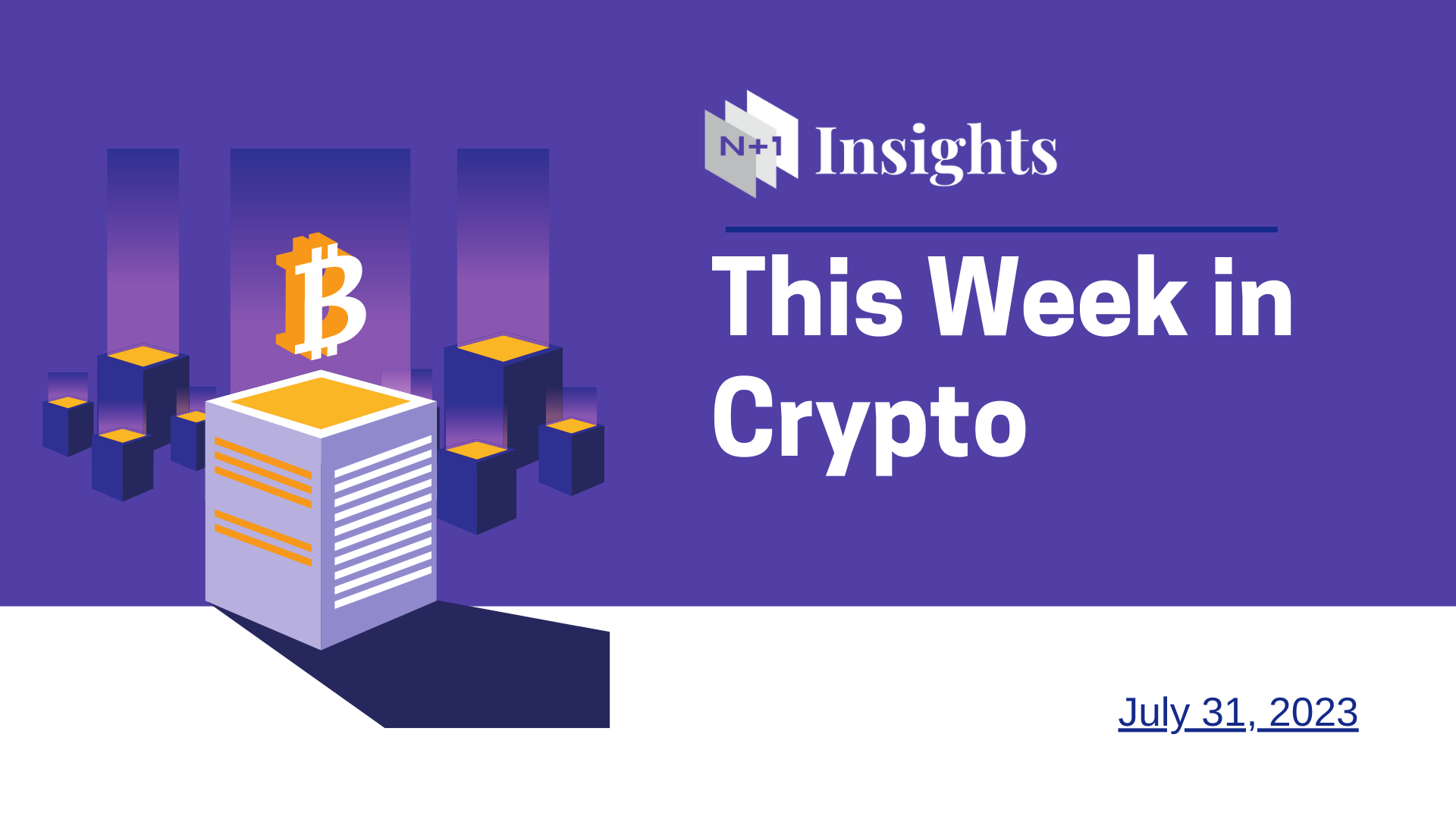 🔍Check out the Top 5 Stories in Crypto this Week!
---
Hello Investors! ☕

In this edition we look at a new coin with connections to AI, a Singapore court decision, the Era Lend attack, Binance in Germany and more. If you are interested in our algorithmic and portfolio insights along with macro economic and media analysis, sign up for N+1 Action. We are offering a 60-day free trial!
Safe Trading,
The N+1 Team
---
📈 The Fed Raises Interest Rates
In macro news, the Feds raised interest rates to a 22-year high at 5.5%. However, Bitcoin remained unphased. Other coins, like Ethereum, did not react to the news either. Overall, the crypto market had little, if any, reaction to the annoucement.
🌍 AI CEO Launches WorldCoin
On July 24th, the WorldCoin project officially launched. The project was created by Sam Altman, the co-founder of Loopt and the current CEO of OpenAI. Worldcoin creates a digital identity by scanning a person's eye. The company describes the technology as a "global digital passport". Those who agree to have their eyes scanned received Worldcoin's cryptocurrency called WLD coins.
⚡ Singapore Court Declares Crypto Assets Property
On July 25 a high court in Singapore ruled in favor of Bitbuy in a trust case. In the ruling, Judge Philip Jeyaretnam decided that a crypto asset is a property capable of being held in a trust. The judge went on to state that a crypto asset is a thing in action, making it enforceable in court. This decision frames crypto assets as legitimate, tangible, stored value.
🚨 $2.7 Million Lost in Attack on Era Lend
On July 25th, Era Lend announced a security breach, which ultimately led to ​​$2.76 million being stolen from its USDC protocol. Era Lend is a lending protocol on the zkSync Layer 2 network. The problem reportedly stemmed from a read-only reentrancy issue connected with the oracle.
🌐 Binance in Germany
On July 26th, Binance withdrew its BaFin application for a crypto license in Germany. The company reportedly intends to reapply with new considerations to reflect the global and regulatory market. This follows a series of setbacks in Europe, including a previous rejection from BaFin on June 29th.
💸 Quantstamp Settles with the SEC
On July 21, the SEC filed charges against Quantstamp for their initial coin offering. Quantstamp is a web3 company whose mission is to secure the decentralized internet. Quantstamp raised over $28 million through sales of their QSP token in 2017. As a result, the SEC claims that Quantstamp conducted "an unregistered initial coin offering (ICO) of crypto asset securities". The company has since agreed to pay a settlement of $3.4M.
📊 Charts of the Week
🤩This Week on Crypto Twitter
Want to join the discussion? Give us a follow!