🥳 Monumental Grayscale vs. SEC decision, New NFT Enforcement and Robinhood Stock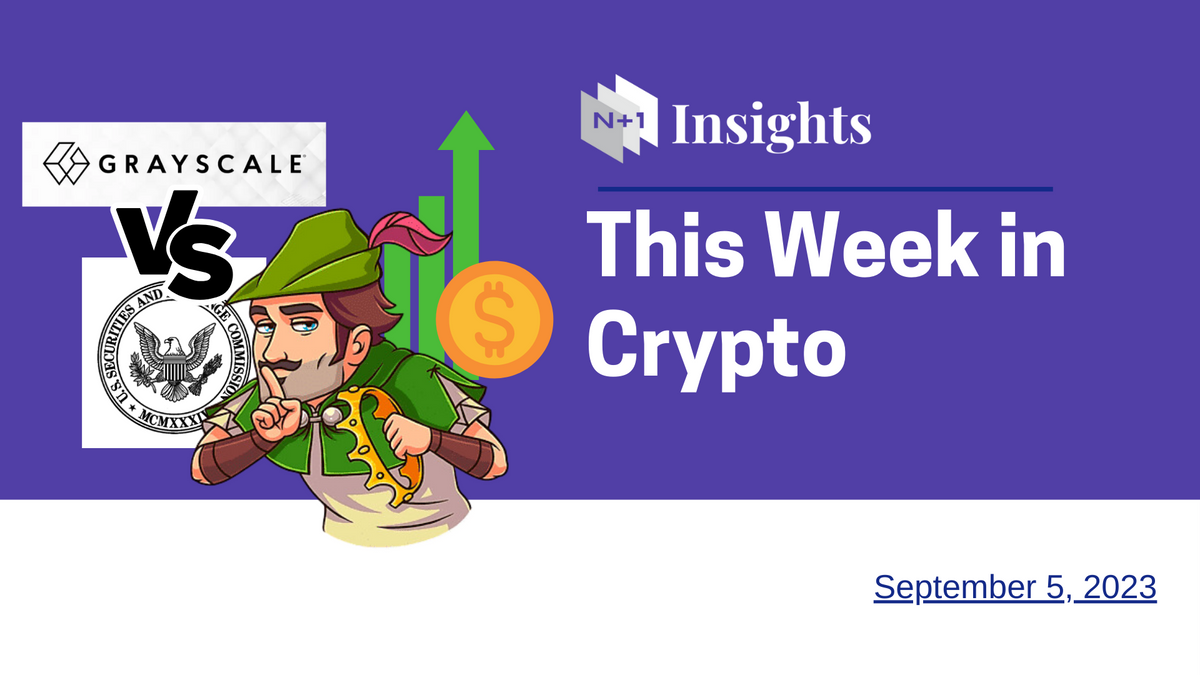 Keep up with the latest crypto news in our weekly recap
Hello investors,
In this edition we explore the Grayscale win against the SEC, the latest NFT enforcement, Kinetix on Kava Chain, BingX's copy trading and Robinhood's stock purchase.
📧
Did you know we are offering a 60-day free trial of our members-only newsletter? With N+1 Action, you can use our algorithmic trading strategies and crypto portfolio samples to become a better investor.
Our team of experts
, with PhDs in business, finance, communication and data science, have formulated this newsletter to help investors of all types capture value from blockchain markets.
Check out a preview
and sign up today!
Safe Trading,
The N+1 Team
---
🎉 Grayscale Wins SEC Lawsuit
Grayscale has been handed a win by the U.S. Court of Appeals. Grayscale submitted a petition for review in June 2023 after being denied its request to convert its Bitcoin Trust into an exchange-traded fund. The court ruled in favour of Grayscale, stating that "to avoid arbitrariness and caprice, administrative adjudication similar cases must be treated similarly". The announcement went on to say that the SEC did not provide Grayscale with adequate justification regarding its decision. Bloomberg's James Seyffart commented on X (formerly Twitter): "This is a complete and utter rebuke of all the SEC's spot Bitcoin ETF denial orders. There is no wiggle room -- basically all of the SEC's arguments are shot down here". This is a significant win for the entire industry amidst the ongoing battles with the SEC.
👀 First NFT Enforcement Action Concludes
On August 28th, the first NFT enforcement action came to a close as media company Impact Theory reached a settlement with the SEC. In 2021, Impact Theory sold $30 million of an NFT called Founder's Keys, as they reportedly tried to "build the next Disney" through educational content and entertainment. In response, the SEC charged Impact Theory with unregistered security offerings. The company has agreed to a cease-and-desist and will pay more than $6.1 million in penalties, signalling the conclusion of the first NFT enforcement action.
🔥Kinetix Finance Launches on Kava Chain
Kinetix Finance, a project created by core members of Quickswap, has launched on the layer-1 Cosmos-Ethereum blockchain Kava Chain. Kinetix Finance is a perpetual exchange that provides users with a decentralized finance platform. Kinetix's goal is to build a fully decentralized DeFi hub to empower users through high-speed swaps and low fees.
❗️ BingX Announces Copy Trading
The crypto exchange BingX has released a new addition to its trading strategy – a feature called copy trading. Copy trading enables users to copy spot orders from other traders to the spot market. This technique allows users to mimic the practices of more seasoned traders and is common practice in cryptocurrency markets. Copy trading creates more accessibility for traders on the BingX platform.
💰Robinhood Buys Back $605M in Company Stock
On Friday, Robinhood shares jumped 4% after the company bought back $600 million worth of their own shares from the federal government. The shares had been initially owned by Sam Bankman-Fried but were seized after the downfall of FTX. The agreement was sealed on Thursday by the SEC.
📚 N+1 Recommendations
The N+1 reading and media recommendations are sourced from our team of experts and offer weekly suggestions for learning more about blockchain, crypto, finance and technology.
This weeks recommendation: Harnessing Our Digital Future by Andrew Mcafee
📊Charts of the Week

🤩 This Week on Crypto Twitter
Join the Conversation!