Insights
Leaving leadership: The crypto C-suite reshuffle (and why it's not all bad)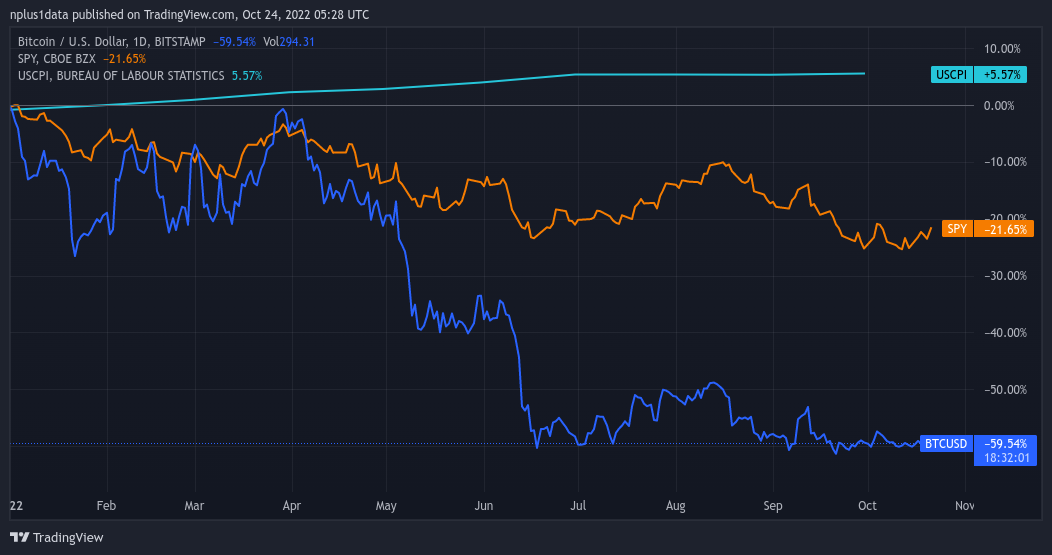 A slew of big-name crypto CEOs have recently stepped down, leading investors to assume they couldn't take the heat (or chill) of the crypto winter. High inflation, interest rate hikes and market volatility have certainly exacerbated C-suite turnover. The September US Consumer Index Report was unpromising as CPI rose 8.2% from the previous year – much higher than the Feds anticipated.
BTC, SPY and CPI Year to Date by nplus1data on TradingView.com
For crypto leaders, this bear market has been marked with uncertainty not just economically, but politically, too. The collapse of Terra Labs revealed massive gaps in accountability and consumer protection. Policymakers, like Treasury Secretary Janet Yellen, are pushing for greater regulation of the space following the stablecoin's collapse. On September 16, the White House released a comprehensive framework for crypto regulation and development. The report acknowledges crypto's potential by encouraging private-sector research and innovation, but calls for measures to mitigate risks. This includes increased enforcement of existing laws and the "aggressive pursuit of investigations and enforcement actions against unlawful practices." For crypto fundamentalists, increased regulation could be a reason to exit the space altogether.
The crypto exodus is not all bad. If anything, the current economic and political environment have separated the fairweather enthusiasts from the dedicated crypto bulls. And a number of CEOs have transitioned to another role within the company. Of those stepping down, five will remain with their firm in an alternative capacity.
For many firms, the crypto winter provides the opportunity to build and strategize for the upcoming bull run, which could explain C-suite restructuring in the space.
"This isn't their first time at the crypto winter rodeo. This one is particularly difficult because it is more connected to the macro environment and the 2021 market highs were far off expectations. Still, projects and companies who are in it for the long game knew it was coming and prepared to weather it financially and focus on BUIDL-ing, as they say, their contributions to the space. Sometimes that means even the most established ones restructure their leadership."
- Peter White, CEO, N+1 Analytics
Here is a list of leaders who left, and their reasons for exiting.